Kiev, Ukraine, October 2022, Sergey Kamshylin
The year 2022 took a tragic turn when Russia launched a full-scale invasion of Ukraine at the end of February. The war continues to cause indescribable suffering. At the same time, the war has made world leaders across the globe – especially those in the global north – realise the importance of moving away from fossil fuels for their national security, economic resilience, and overt reliance on aggressive players like Russia. The invasion of Ukraine also greatly impacted the work of the Centre for Research on Energy and Clean Air (CREA) in 2022.
War accelerates renewable energy; CREA data reveals Russian fossil fuel flows
Russia's invasion of Ukraine started on 24 February 2022 and European leaders were quick to condemn Russia's atrocities. However, the EU ban on coal imports came as late as August – the first energy sanction against Russia by the EU – and the EU ban on crude oil came in December 2022, which marked an important milestone in reducing dependency on Russia. The G7 countries, EU and Australia – some of the most advanced economies – sanctioned a price cap on Russian oil in December 2022. February 2023 will also see oil products banned by the EU.
Economies around the world are now accelerating their transition from fossil fuels to renewables, an unexpected side effect of the Russian invasion of Ukraine in 2022.
The tragedy of the brutal and illegal invasion of Ukraine by Russia set the stage for a large part of the work of the Centre for Research on Energy and Clean Air (CREA) in 2022 as we tracked the fossil fuels coming out of Russia that are fueling many regions of the world and the Russian army.
To visualise and reveal the extent of Russian fossil fuel exports, the Centre for Research on Energy and Clean Air (CREA) created a tool that tracks Russia's exports of crude oil, oil products, coal, LNG and piped natural gas to countries all over the world. The tracker shows the changes in imports since the invasion of Ukraine and is done by tracking detailed ship movements and pipeline flows. As of early January 2023, Russia has earned EUR 270 billion since the start of the invasion, of which EUR 134 billion has come from the European Union, and funds Putin's atrocities in Ukraine.
CREA's Russia Fossil Fuel Tracker was reported and cited widely during the initial months of the war, which went a long way in making the case for the EU's sanctions against Russia's fossil fuels. The Tracker revealed the extent to which the world is helping to fund Russia's war in Ukraine through purchasing Russia's fossil fuels. These numbers helped journalists tell the story that matters while providing the larger context. For instance, Europe experienced a fossil fuel supply crunch starting from mid-2021, as Russia cut exports to Europe in preparation for the attack into Ukraine. At the same time, demand was rebounding from COVID-19 lows. Media houses and policymakers portrayed this as a 'return' to fossil fuels. However, our work shows this was a misunderstanding. The price shock and moral shock stemming from Russia's attack catalysed clean energy investments and policies. In November 2022, the EU's carbon emissions reached a 30-year low. The International Energy Agency (IEA), in its World Energy Outlook 2022, marked the year historic, stating, "for the first time, global demand for each of the fossil fuels shows a peak or plateau across all WEO scenarios, with Russian exports in particular falling significantly as the world energy order is reshaped."
Our work revealed the energy exports of Russia, while highlighting the boost to renewable energy. This is crucial, not just to meet climate commitments but also to build domestic resilience and national security. We will continue to contribute solutions to the energy crisis next year.
Regional overview
Global events in 2022 caused massive disruption of supply routes and commodity prices, driving significant changes in energy transition efforts.
The energy crisis in the EU led to RePower EU – a policy to ensure 100% independence from Russian fossil fuels well ahead of 2030. As a response to multiple threats to European countries' security that became undeniable in 2022 with the invasion of Ukraine, our work in 2022 also included analysing the development of clean energy policies in Europe.
Our tracking of EU CO2 emissions via our dedicated EU CO2 emissions tracker revealed that emissions started to fall in the EU in the second half of 2022. This revealed a trend that began in July and was triggered by rising fossil fuel prices and reduced electricity and gas consumption.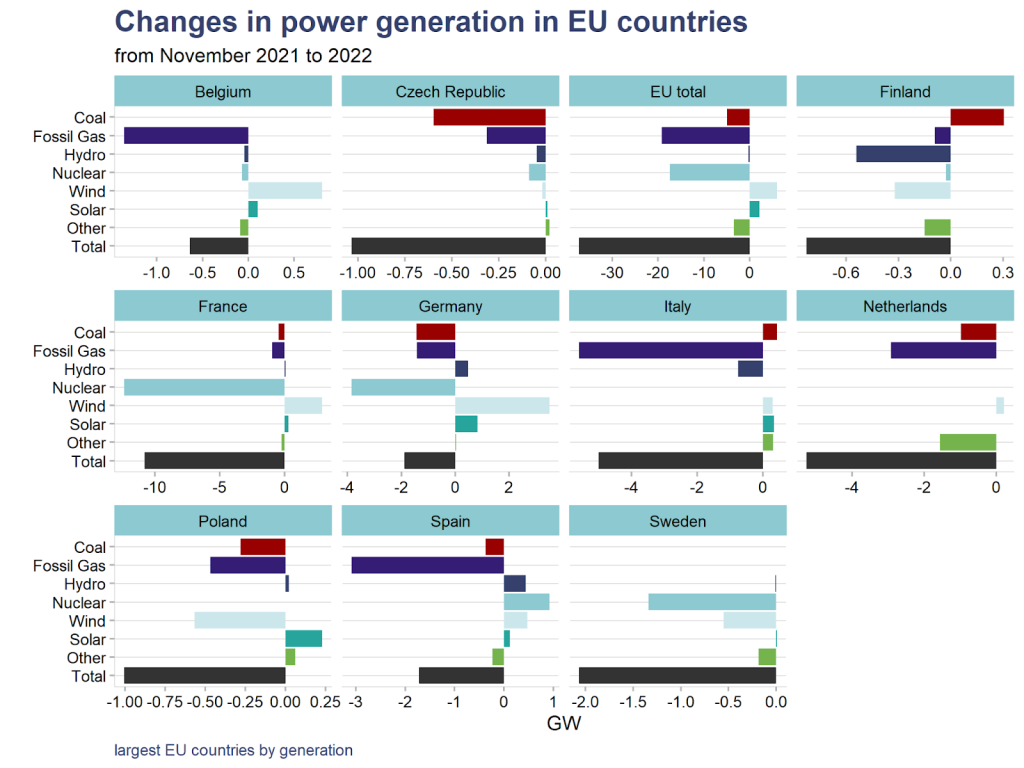 The trend was sustained by reduced consumption but also increased renewables through December, despite cold temperatures. Wind production greatly increased in Germany, but also in Belgium, France, Italy, and the Netherlands. Solar production also increased, in particular in Poland.
In Asia, we found that several countries with significant shares of solar generation have saved on additional imports of coal, oil and gas prices amidst their skyrocketing prices in the first half of 2022. CREA's report in collaboration with EMBER and IEEFA, 'Sunny Side of Asia', revealed the vital role solar is already playing and can play by moving away from fossil fuels. Approximately USD 34 billion in additional fossil fuel costs were saved due to solar generation in seven key Asian countries – China, India, Japan, South Korea, Viet Nam, the Philippines, and Thailand – from January to June last year.
This is about 9% of the total fossil fuel costs these countries incurred in the same period. Among the top ten solar-powered countries, five are Asian. Only one decade ago, there were just two in the list – reflecting the rapid transition in the global south.
Looking to the future, many of these countries have ambitious targets to increase the share of solar by 2030. While the absolute megawatt solar targets in countries like Indonesia and Thailand underestimate the potential that clean technology has in these respective countries, solar power is expected to experience exponential growth at an average annual growth rate of 22% until 2030 across five key Asian economies (China, India, the Philippines, Japan and Indonesia).
China
When it comes to mitigating carbon emissions and air pollutants, the year 2022 belongs to China. The country saw the longest sustained fall in a decade in 2022, primarily due to Covid-induced lockdowns which slowed down industrial production and economic growth.
CREA has been tracking the country's climate transition by benchmarking the country's total greenhouse gas emissions, total energy supply, carbon emissions and energy trends in key sectors against transition pathways aligned with the Paris Agreement goals. Our assessment found multiple indicators on track, such as clean energy investments, electrification, building sector emissions, and electric vehicle sales. However, some indicators were off track until 2021, for example, total energy consumption, industrial energy consumption, transport energy consumption, and buildings energy consumption. CREA will assess and update China's progress regularly.
CREA continued to track China's investments in new coal power and steel projects. The country's economic slowdown notwithstanding, China continued to invest heavily in these sectors, which is contradicting the country's carbon-neutrality goal while posing a high carbon lock-in risk.
Large parts of the country faced power shortages in recent years due to extreme weather conditions, fluctuations in renewable energy, and acute surges in power demand, however, our research revealed that these could be tackled by reducing dependency on coal and inefficient grid operations. By removing obstacles to interprovincial power trading, our research found that local grids across several provinces were sufficient. If power was allocated properly, the need for new coal power could be avoided.
Despite the new investments in coal, China continued with its impressive growth in wind and solar energy installations. Two 'batches' of mega wind and solar projects kicked off in the clean energy bases, mainly in the Gobi and desert areas. The third batch called for tenders in September. Five offshore wind energy bases are in smooth development. By the end of October, China's renewable energy installation saw a remarkable 97GW rise, accounting for 76% of total power generation additions. The share of renewable energy in the total energy mix has reached 47.6%, overtaking the share of coal.
CREA's China team will continue to track China's investments in fossil fuels and renewable energy to hold the country accountable for its actions.
South Korea
Emissions and pollution from the industrial sector is crucial to net zero commitments, and is an area that CREA began looking into more closely in 2022.
One important area of research we developed focused on South Korea, the sixth largest steel producer in the world. We found that when three of South Korea's biggest integrated steel plants operate simultaneously, their emissions can cause the entire country's annual average near-surface concentration of nitrogen dioxide (NO2) to increase by up to 1.5 μg/m3, sulphur dioxide (SO2) by 1.22 μg/m3, and particulate matter (PM2.5) by 0.4 μg/m3. Air pollution from these three plants – two operated by POSCO and one by Hyundai – was responsible for more than 500 premature deaths and the economic cost of increased health spending and loss of productive work hours is estimated to be nearly USD 3 billion.
These shocking revelations were unveiled by a joint research report by CREA and Solutions for Our Climate (SFOC) published in the 4th quarter of 2022. The impacts are only expected to grow given the country's current policies, without any additional emission control interventions. Between 2022 and 2050, air pollution from all primary steel production would result in 19,400 premature deaths, with an accumulative economic burden of USD 111 billion. Almost a quarter of its emissions will also impact neighbouring countries' air quality and public health. The report revealed the dual importance of mitigating steel plant emissions for climate and for health.
Indonesia
This was a pivotal year for Indonesia's climate and energy landscape. With the country taking the helm of the G20 Presidency, important policies and pledges were announced to position the country as an energy transition leader not only in Southeast Asia, but also globally.
In 2021, the Indonesian government became a signatory to the Global Coal to Clean Power Transition Statement. PLN, the state electricity company, also released a roadmap for carbon neutrality by 2060. This ultimately led to the USD 20 billion deal under the Just Energy Transition Partnership (JETP), the world's largest climate finance commitment for the energy transition to date. Under the JETP, Indonesia will need to retire all coal-fired power plants by 2030 and replace them with renewable energy. A closer look at key power sector policies and announcements reveals that exemptions and proposals may not be setting Indonesia on the most straightforward path to achieving these climate targets.
In September, Presidential Regulation No. 112/2022 targeting 'Acceleration of RE Development' in Indonesia was released with some implications for the future of coal. While the construction of new coal power plants would be prohibited beyond those stipulated in the National Electricity Supply Business Plan (RUPTL), several exceptions were made: (1) "integrated with any industry… or is listed in the National Strategic Project (PSN)"; (2) plants that "committed to reducing greenhouse gas emissions (GHG) by at least 35% within ten years of operation compared to the average CPP emissions in Indonesia in 2021 through technological advancement, carbon offsets, and renewable energy mix…"; and (3) "operational no later than 2050".
The exemption of captive coal plants is especially concerning, as CREA's assessment found more than 15 GW of captive coal plants in Indonesia were in danger of being built with Chinese financing, despite China's own pledge to halt overseas coal build.
A recent report with contributions from CREA presented a feasible, just, and accelerated retirement pathway to net-zero for Indonesia setting the coal phaseout date to 2045 at the latest. The retirement costs were estimated at USD 4.6 billion through 2030 and USD 27.5 billion through 2050, while the total savings from avoided coal power subsidies and avoided public health costs amounted to USD 34.8 and USD 61.3 billion, respectively.
The avoided coal power subsidies and health costs were estimated to be 2–4 times larger than the costs of stranded assets, decommissioning employment transition, and state coal revenue losses.
India
The past year has been one of both hope and incertitude when it comes to decarbonising the energy sector and improving air quality in India. CREA's work in India has shed light on trends in regulation, governance, and emissions when it comes to air pollution and its health impacts on local communities.
In 2019, India launched its first National Clean Air Programme (NCAP) and CREA took stock of the efforts made so far in its annual NCAP progress report, 'Tracing the hazy air: Progress report on National Clean Air Programme'. While the Central government patted itself on the back for 'steps' taken, CREA's 2022 progress report was a sobering reminder of the shoddy efforts by various state agencies. The report brought out the copy-paste nature of the NCAP with several cities having the same actions despite varying geographical conditions and emission loads. The report also highlighted several shortcomings when it came to the physical infrastructure required to monitor air quality.
CREA's work in India also took up both state and plant-specific research to highlight the public health impacts of the industrial and power sectors. The first such study was for an upcoming integrated steel production facility in the eastern state of Odisha. The report revealed that the plant's emission load will be twice the entire region's existing pollution load, which would be responsible for at least 94 deaths a year, 180 emergency room visits due to asthma, 160 preterm births, and 75,000 days of working days missed.
CREA also trained its focus on coal in India. An analysis on a coal-fired power plant in the western state of Maharashtra revealed that the failure to install flue-gas desulphurisation devices (FGD) at the 2920 MW Chandrapur Super Thermal Power plant has resulted in 1,900 asthma emergency room visits (of which about >800 were among children) and 1,800 preterm births. The report also concluded that FGDs could have reduced economic damages by up to ₹ 1650 crore per year.
In the summer of 2022, India made global headlines with its acute coal shortage, leading to power cuts across the country, which has become an annual event in India. While ministers and policymakers are quick to blame not having 'enough' coal as the reason for such power shortages, CREA analysis revealed the lacunae elsewhere. Our report, 'Failure To Load', revealed that the power shortage was not because of coal production but due to poor distribution and planning from officials, especially in the months ahead of the monsoon season when the stocks at power stations weren't built to adequate quantities. Coal transport is severely limited during monsoons as rains result in mine closure, flooding and constraints on evacuation infrastructure.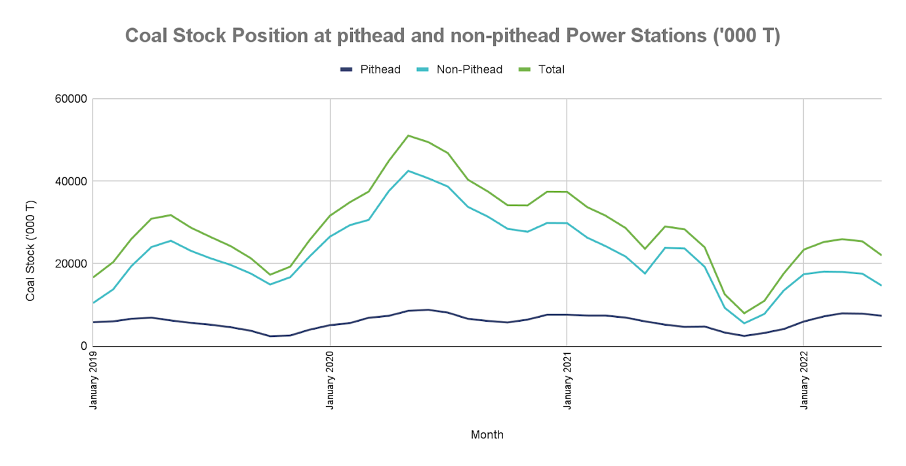 CREA's work continued to highlight the severity of India's air pollution issues towards the end of 2022 as the winter months made the country's air quality worse.
Our October 2022 report revealed the various sources of air pollution that choke the national capital, New Delhi. It included specific policy measures to manage the annual crisis through better governance and by bringing together all stakeholders for a viable and sustained solution.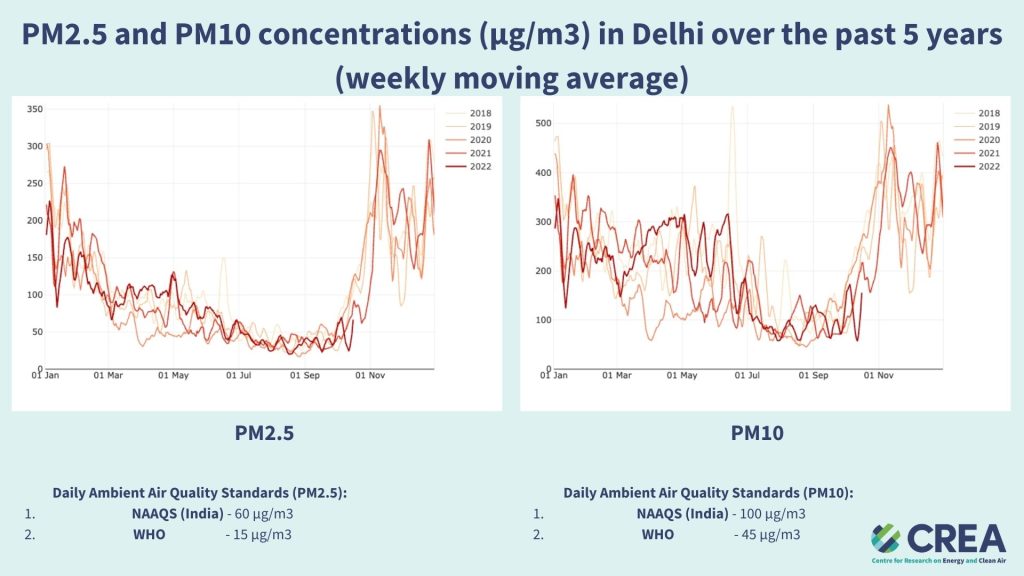 In December, we released our Emission Watch assessing SO2 emissions in West Bengal. Seven years after the December 2015 emission standard notification for coal-based power stations, not one single power station in West Bengal has installed technology to reduce SO2 emissions.
Air pollution from coal-fired power plants not only impacts people in its immediate vicinity but travels long distances and the concentration levels put everyone at risk, especially vulnerable citizens such as children, the elderly, and pregnant women.