The week of 26 December 2022 to 01 January 2023, the largest importers of Russian fossil fuels last week were the EU, China, India, Turkey and Japan. The EU remained the largest importer, due to increased shipments of refined oil products, as well as pipeline flows of crude oil and gas, showing that the Union still has ways to go to fully extricate itself of dependency on Russia.
Russia has significantly increased refined oil product exports, offsetting some of the impact of the EU's ban on seaborne crude oil imports.
Oil product imports to the EU will be banned in Feb, and Germany, previously the largest pipeline oil importer, stopped imports at the end of the year.
China's and India's imports were mostly crude oil. Turkey imported a mix of Russian fossil fuels with pipeline gas dominating. LNG was the lion's share of Japan's imports.
The top five ports importing Russian fossil fuels were in Asia, with crude oil dominating as the imported commodity.
The top five EU importer countries last week were Austria, Germany, Slovakia, Poland and Belgium.
Crude oil shipments from Russia appear to have bottomed out after the fall in the weeks after the introduction of the price cap and the EU's import ban.
The share of tankers covered by the price cap in crude oil shipments out of Russia has slightly decreased to 63%, while the share of "others" has increased to 30%. For oil products and chemicals, the coverage of the price cap coalition remains high at around 80%. These high shares illustrate the leverage the price cap coalition has to ratchet down the price cap.
There are small increases in oil‑on‑water for both crude oil and oil products, due to a recent increase in outgoing shipments. The glut of LNG cargoes continues as there is less demand from the EU. Urals crude's prices remained stable at USD 52 per barrel, remaining below the price cap level of USD 60. However, the East Siberia–Pacific Ocean (ESPO) price, mainly applying to Chinese purchases, has remained above the price cap.
Shipments in the last week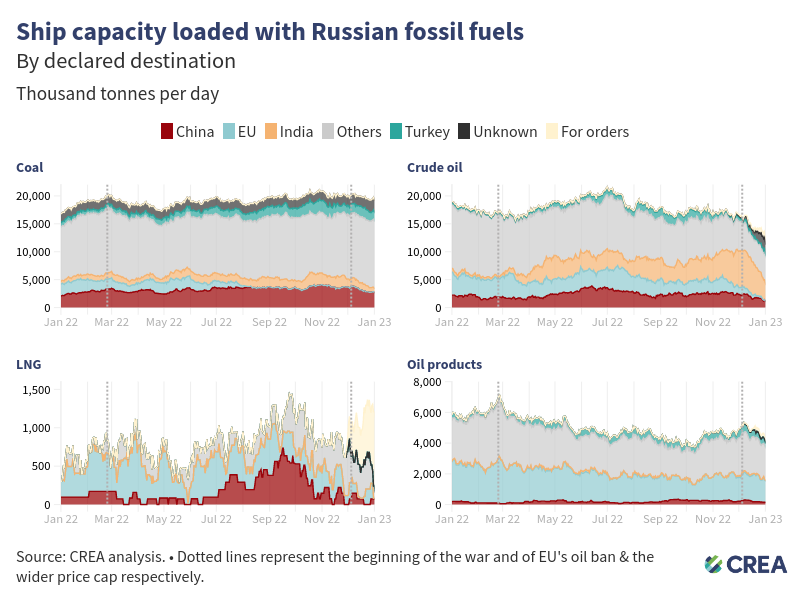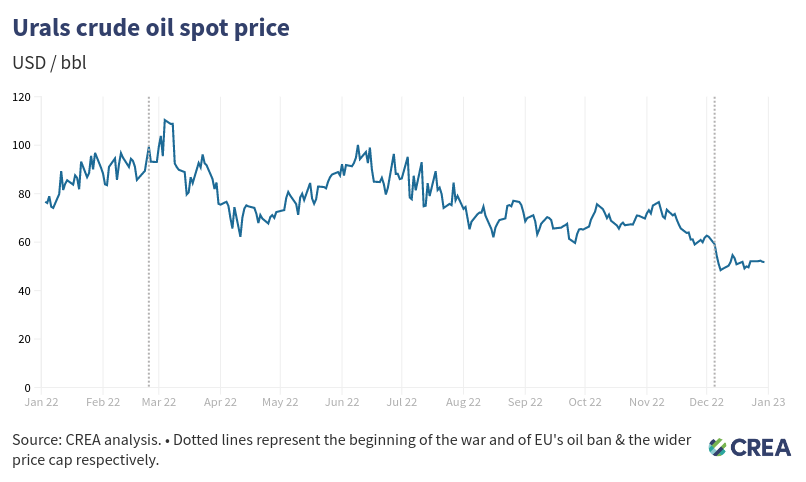 The weekly update of Russian fossil fuel exports was prepared by Meri Pukarinen, Europe-Russia Policy Officer, CREA; and Jan Lietava, Data Scientist/Engineer, CREA.