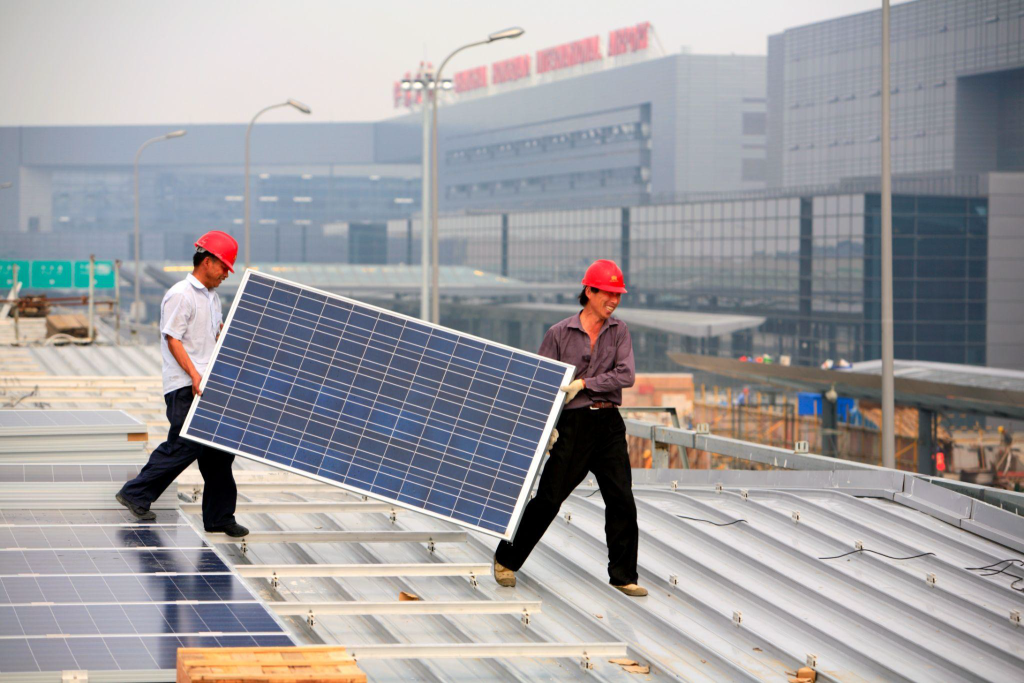 Steel & cement output cools down
Steel and cement output increased strongly year-on-year in March but cooled down in April and May.
This indicates a weak recovery of real estate and other fixed asset investment, despite government loosening and stimulus measures.
The government aims to limit full-year steel output below 2022 level.
Steel and cement prices declined, indicating that output was running ahead of demand.
Cement output has been declining since 2020, leaving the industry with overcapacity.
The steel and cement industries are the largest CO2 emitters in China, when emissions from their electricity use are included. They are also bellwethers of real estate, infrastructure and other fixed asset investment which play an outsize role in China's emissions and economy.
Solar & wind output make records, electricity demand growth slows
Electricity demand growth accelerated in March–May, driven by the effect of re-opening on the service sector, which saw 20% growth.
Solar and wind power registered sharp increases and record output levels.
Hydropower output collapsed further (33% year-on-year in May) due to drought and pressure to save water for generation during peak demand season in July–August
As a result of the hydropower collapse, coal and other thermal power increased sharply, by 16%.
Coal production and imports keep growing, oil imports rebound
Domestic coal output tonnage has continued to grow in 2023, following the steep increase in 2022 resulting from government efforts to boost output. However, coal quality has declined, resulting in a much smaller increase in energy supply from domestic coal. Poor quality of coal supplied has also pushed users to shift to imported coal for blending, the result being a record surge in imports.
Crude oil imports bottomed out in mid-2022 and have continued to increase. Oil products supply has increased sharply in the past few months.
Gas demand remains muted due to high prices and the fuel falling out of favor of policymakers.
Diesel leads rebound in oil demand
The increase in output of oil products has been almost entirely driven by diesel.
Strong diesel demand shows China's recovery is driven by industry and freight.
Record solar & wind additions
Almost 50 GW of solar power was installed in the first four months of 2023, tripling from 2022 and almost as much as installed in the full year of 2021.
Newly installed wind power capacity doubled to 14.20 GW in the first four months of 2023.
Cost reductions in the solar power sector have led to improved investment returns, enabling the initiation of previously unfeasible projects
Distributed solar and centralized wind boom
Solar power installations are led by Henan, Shandong, and Jiangsu, which have ambitious rooftop solar policies (known as "whole-county distributed solar"), striving to meet rooftop solar installation targets by the end of 2023.
Inner Mongolia aims for full operation of its large-scale clean energy bases by year-end.
Coal power additions in Inner Mongolia are also aimed for exports, largely to provinces that are also adding capacity locally (e.g. Jiangsu, Zhejiang).
Xinjiang's wind power sector is developing through pumped-storage power stations and new energy storage projects.
Record solar cell and electric vehicle output
Solar cell production in the past 12 months reached 415 gigawatts, growing explosively and predicting rapid growth in global solar power installations
EV production continues to grow rapidly, with almost 8 million vehicles produced in the past 12 months, representing more than 25% of all vehicles produced
China's export volume of EV continues to soar, securing its position as global leader
Local governments issued a new round of policies supporting EV industry; central government rolled out EV promotion policy in rural areas
Jingjinji cities top the list of most polluted in May
Lanzhou in western China had the highest PM2.5 concentrations, followed by the four province capitals in the air pollution key control region around Beijing.
Lhasa had the highest ozone levels, followed by five cities in the Beijing key control region, Kunming and Shanghai.
Chongqing, Taiyuan, Jinan, Shanghai and Tianjin ranked worst in NO2 levels.
PM2.5 levels rebound year-on-year both due to higher emissions and less favorable weather
Weather in May 2023 was less favorable than in 2022, causing worse PM2.5 air quality.
However, many cities including Chongqing, Beijing and Shanghai, also saw increases in PM2.5 and NO2 pollution levels that can't be explained by weather conditions.
Southwest China saw big increases in ozone due to weather conditions.
Increases in NO2 emissions can suppress ozone formation.
Our analysis projects the influence of weather conditions on air pollution levels using a machine-learning model trained on actual data for each city. The variation that cannot be explained by weather conditions is attributed to changes in emissions.
Worst 7-day air pollution episodes by pollutant
Data sources
Industrial output, power generation and power capacity additions, as well as fuel imports and exports are based on Chinese government data, through Wind Financial Terminal. Some of the data is not included in public releases.
Measured air quality data is compiled from Chinese government air quality monitoring stations. Weather-controlled air quality is derived from CREA's deweathering algorithm.
China energy and emissions trends: June snapshot is also available here in pdf