May 29, 2022
Going by coal stocks in thermal power stations (TPPs), India's current power crisis is unlikely to be resolved soon. The onset of the southwest monsoon will further hamper mining and transportation of coal from mines to power stations. At the start of May 2022, non-pithead power stations have only six days of coal left, against the stipulated 20-26 days. On the other hand, pithead power stations have coal stock enough for 13 days of coal stock. While the former are power stations that depend on long-distance transport and imported coal for their coal needs, the latter have their captive transportation systems from the mines directly.
The total stock of non-pithead power stations fell to as low as 13.6mt on May 17, 2022, down from the opening stock of the month at 14.7 mt. This amount is sufficient to power the country for only seven days. The problem of power shortage, however, is not coal production but distribution and official apathy. India produced 777.26 million tonnes of coal in the financial year 2022, an 8.5% increase from the previous year. "India's coal production this year was the highest in its history and ironically, millions of people are left vulnerable to power cuts amid severe heatwaves and other vagaries of Indian weather," said Sunil Dahiya, an analyst with the Centre for Research on Energy and Clean Air (CREA).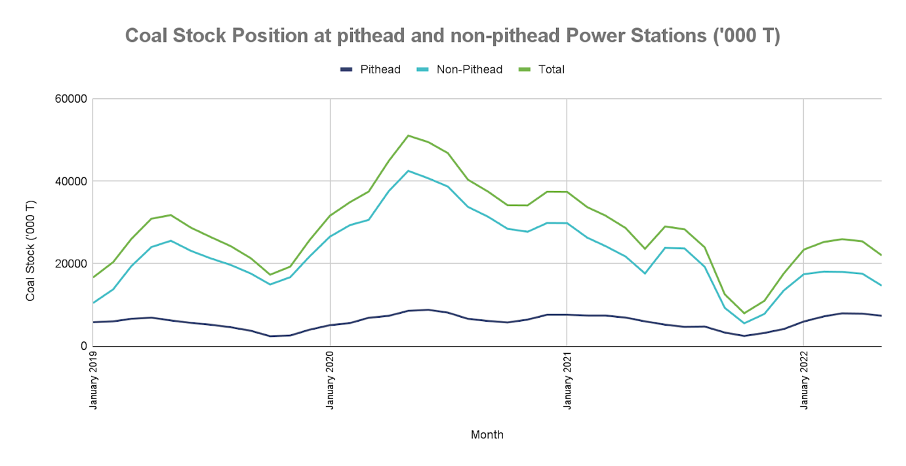 In June 2021, pre-monsoon coal stock was 17.6 mt which was reduced to 5.5 mt in July-August at non-pithead power stations, only enough to last the country just four days and led to the power crisis last year. Like last year, a lower pre-monsoon coal stock at power stations indicates the possibility of another power crisis in July-August 2022. "Plant operators and regulators had three months to prepare and avoid a crunch. Officials also know very well that monsoons will impact mining and transport. Yet, no preemptive action was taken to resolve this crisis. It is also a reflection of the coal sector's failure. After a century of operation, coal has not only polluted our environment and caused a major public health crisis to vulnerable communities; the sector is struggling to power the country," Dahiya said.
Way ahead and looming Threats-
Focus government and private sector attention on effective utilisation of existing assets rather than building new ones, mainly coal-fired power stations and new coal mines.
Ramp up the coal transportation to power stations to build up coal stocks before the monsoon starts by ensuring efficient utilisation of railway rakes
Manage coal mines to ensure adequate supply while protecting stored coal from flooding caused by monsoons.
Rationalise coal linkages to ensure the shortest distance travelled by railway rakes
Ensure coal dispatch to power stations that are critical for grid stability and those located in energy-insecure states
Ensure faster import of coal to coastal power stations on a priority basis
Run awareness and public outreach campaigns to stabilise the demand by demand-side management and reduce the wastage of electricity and enhance the efficiency of electricity usage by all consumers
In the long run, India needs to reduce its dependence on dirty fuels of the past, and diversify its energy mix by accelerating renewable energy and storage options.